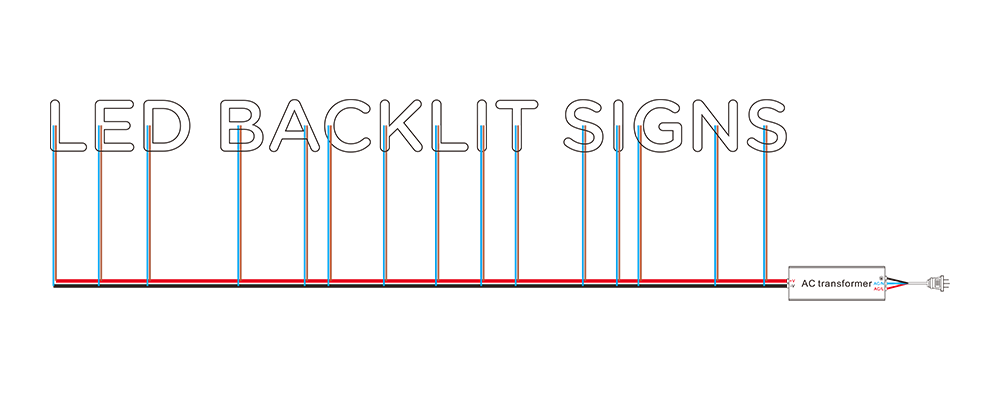 NOTE: ONLY ELECTRICIAN CAN WIRE THIS PRODUCT, MUST CAREFULLY CHECK AND CONFIRM EACH TERMINAL; THIS DIAGRAM IS FOR ILLUSTRATION PURPOSES, ACTUAL WIRE LOCATION TO BE CONFIRMED TO THE REAL PRODUCT
READ BEFORE START:
Every individual part of LED backlit signs has two electric wires in 60 mm (23.62″) length by default, 

brown wire for positive terminal

and 

blue wire for negative terminal

We suggest to use the cable 2.5 mm2 (AWG 14) as the trunk wire at least.
Try to make same distance from the trunk wire to each individual LED backlit signs part.
The distance between the AC transformer and the individual LED backlit signs part within 5000 mm(196.85 in), too much exhaust of low voltage DC.
Check the voltage at the individual LED backlit signs part terminals after completion of wiring, the deviation of the voltage should be +/- 0.2 V of the nominal voltage, otherwise a larger trunk wire needs to be used.
AC transformer needs to be grounded during installation. Each individual LED backlit signs part's connection wire is DC 12V.
Parallel connect all electric wires of every individual LED backlit signs part and link them with the trunk wire, then make the trunk wire connect to AC transformer. "+V" is positive terminal, "-V" is negative terminal.
Please give the AC transformer enough space for radiating heat. If the space have the ventilation system would be better.